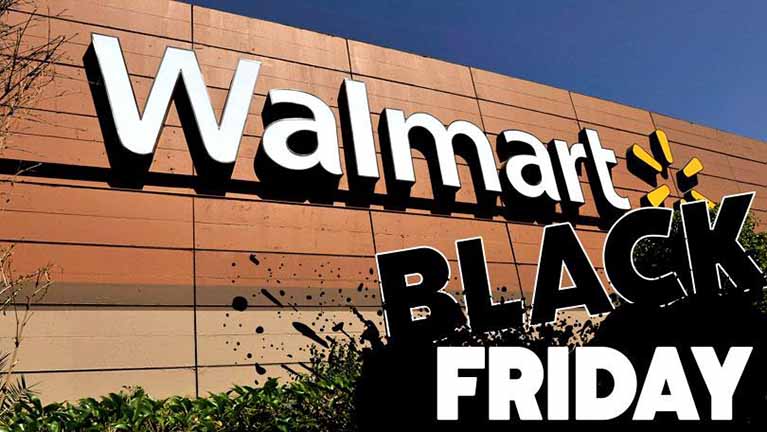 The Black Friday sale starts at the end of November every year. Everyone tries to catch the best deals at this biggest sale event.  Sale has started on Walmart, and there are many amazing deals. Let's talk about the best Black Friday deals that you can buy right now.
There are lots of amazing deals like on Airpods, Apple Watch, 4K TVs and many more. So here I am mentioning about the best Black Friday deals on Walmart that you can purchase.
First Talk about the top deals of Black Friday on Walmart
Top deals of Black Friday on Walmart
Apple Watch S3 (GPS/38mm)
The apple watch 2 is the best smartwatch for them who always invest much money on the smartwatch. It records all your activities workouts.
The best thing is that it is waterproof therefore you can use during swimming. You can save $30 on black Friday sale. The actual price was $199 ad now available in $169.
AirPods With Charging Case
The latest model of Airpods is available at $139 rather than $159. It features faster wireless connectivity with Apple devices.
AirPods with Wireless Case
Here comes a new Airpods 2019 that they can be charged wirelessly via Apple new Airpods charger. It is available reasonable price at $164, and its actual price was $199.
Home Mini w/3 Disney Books
The home mini is called the google home mini that features great audio and ability to control Android TVs as well as Chromecast. So for the limited time on black Friday deals, 3 Disney golden books are available at $25, and you can save $24 from the actual price.
Samsung 58 inch 4K TV
Samsung's 58 inches 4K UHD smart TV is a great TV that delivers a 4K resolution and smart experience as well as three HDMI ports on a very low price.
Yes, on black Friday sale you can purchase Samsung 58 inch 4k TV as well as three HDMI ports just $377.99.
Kitchen Aid Stand Mixer
Ten-speed Kitchen Aid Stand Mixer is a 4.5-quart stainless steel bowl with the flat beater and whisk attachments. The actual price was $259 and now in the sale available at $199.
Black Friday Sale on Laptops
Lenovo Chromebook 100e
The Chromebook 100 ebook of Lenovo is a perfect laptop for children or everyone who needs a primary machine.
It is a pack of Media Tek CPU, 16GBeMMC and 4GB of Ram. One of the least expensive but best laptop on Walmart's Black Friday sale.
Acer Aspire 1
One of the most stylish and affordable laptop The Aspire 1 is available in just $149 instead of $199. It has a Celeron N4000 CPU, 64GB eMMC and 4GB of RAM. So it is giving you a profit of $50, let's go and grab this piece.
Acer Aspire 5
Another best laptop within budget is Acer Aspire 5. This Core i5 features an 8GB of RAM and 256 GB SSD. On Walmart's Black Friday sale it is available at $399.
Motile Laptop
The motile laptop is a collaboration of AMD, Motile and THX. They released this new model in October. It is specially designed for entertainment purposes.
This laptop features a Ryzen 5 CPU, 8GB of RAM and 256 GB SSD. The price of this exclusive laptop is $379; however, the actual cost was $699.
Lenovo Legion Y540
One of the best budget gaming machine in Walmart's Black Friday sale is Lenovo Legion Y 540. In this pack, a Core i7-9750H six-core CPU, 512 GB SSD, 8 GB of RAM and a GTX 1650 GPU. Now you can save $300 because it is available at $999.
Consoles Walmart's Black Friday deals
Mario Kart 8 Deluxe w/2 Wheels
Now, you can get Mario Kart 8 Deluxe in just $49 along with Jon-Con Wheel 2-pack. It is for a limited time offer.
Nintendo Switch Bundle
Nintendo Switch Bundle is a pack of new Nintendo switch console and Minecraft for Nintendo switch. This pack is available in $298.
Pokemon Sword and Shield Controller
One of the best Pokemon Sword and Shield Controller is available for just $60. It is available with a free Ematic Switch controller.
Apple Devices At Walmart Black Friday Sale
Apple iPad (128GB)
128GB Apple iPad is a 9.7-inch LED-backlit IPS display, Touch ID and A10 Fusion chip. It has long battery hours and best iPad ever. It is available in $299 at Walmart's Black Friday sale.
Apple Watch S3
S3 is an excellent Apple smartwatch for those who are interested in spending money on the smartwatch. It is waterproof, so best for the pool. The price of Apple Watch S3 is $169 instead of $199.