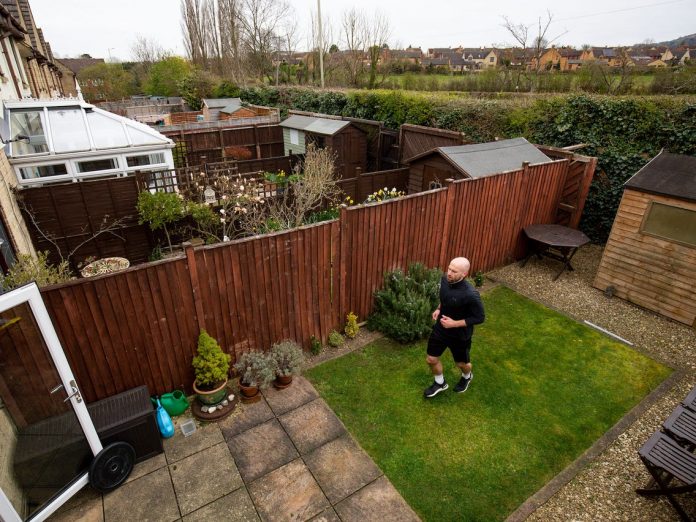 The lockdown has become the new normal and people have started embracing it with positivity. A British man started trending in April because of his attempt to complete a long marathon by jogging in his backyard. The man, James Campbell jogged till the end of his fence and turned around the garden shed. He then bounced back to his patio and his sneakers took up postage stamp-sized patch of grass! He kept spinning again and again and after five hours he had completed a marathon in his 20-foot backyard.
Who is James Campbell?
With an inevitable athletic spirit and body, James Campbell is a world-class javelin thrower from Cheltenham, UK. The lockdown had made him feel restless and he was looking for ways to be productive.
He said that the attempt of having a marathon in the backyard was "literally the most stupid thing" he could think of doing on turning 32 that day. However, thousands of people lived streamed his marathon around the circles of his backyard. The video raised $32,000 for National Health Service, UK.
How did the marathon go?
Someone who has been jogging for 26.2 miles straight will feel challenged after a point in time. For James Campbell, it was more evident due to the same scenery he was watching. However, COVID-19 brewed in a new kind of athletic feel in the man and he wanted to battle it with mental toughness and improve physical endurance.
Many long-distance runners have now come down to short distances like balconies, one-bedroom apartments, or backyards. Doing an activity for hours is much like a hamster running a wheel.
The marathon trend
The trend of making use of small spaces for marathon started off when Chinese runner covered 50-kilometer ultramarathon of around 31 miles in his apartment. He posted images from his run-track app to prove his attempt. He had run for 6,250 loops around two massage tables in in a room.
When coronavirus spread across Europe, the road races were halted across the continent. Elisha Nochomovitz, a participant of the canceled Barcelona Marathon didn't let his training go wasted. He finished a complete marathon in his 23-foot balcony within a course of 6 hours and 48 minutes in his France residence. He also reported to go nauseous during the repetitive turns. The marathon runner said that the challenge brought in humor and reduced the drama behind confinement situation.
Recently, American runners have also started taking up the challenge. Matt LeBlanc, a teacher of middle school in New Hampshire was trying to think of math problems for his students when he was inspired athletically. He got an idea to measure his backyard to check how many laps it would require to have a marathon. The teacher decided to run for 26.2 miles which is the length of a standard marathon and the route around the backyard was 222 feet. Thus, he had to make 623 laps to complete his attempt.
Matt LeBlanc reported to raise $2,100 for a local food bank by live streaming his video. He later reported that his sides were sore due to so many laps moving in the same direction repetitively.