India is a land of diversity and leaves anyone who steps into this land amazed. You notice this country to be a confluence of cultures where modern and traditional world meet. India is the largest nation that ranks seventh in the world by area. Further, it ranks second in terms of the largest population. This country takes immense pride in the rich heritage it has and possesses spectacular destinations too. Since this country has so much to offer, travelers love returning to this country repeatedly. So, if you haven't added India to your travel bucket list, definitely go ahead and do so. Moreover, we have gone ahead by making you a list of the best tourist places to visit in India.
Best Tourist Places in India
You will notice most destinations in India rank as the best tourist places in the world. So, before you visit this incredible country and view its breathtaking beauty, we'll guide you in making the most of it. We have got you a complete detailed guide about all the best tourist places in India.
The best tourist places in India are as follows:
Agra
Highlight: The Taj Mahal
The Taj Mahal in Agra is a renowned and one of the best tourist places in the world. If you're visiting India, you must witness the monument that is a perfect example of immense love. The Mughal Emperor Shah Jahan built it in remembrance of his most loved wife, Mumtaz Mahal. The museum was named after Mumtaz Mahal and began just after her demise in 1631. It took around 20,000 blue-collar workers 17 years to build this majestic, spectacular architectural building.
When you witness this place, you'll notice the building to have an Islamic architectural touch to it, which begins with you first seeing calligraphy incrusted all across the entrance, some arches, round-shaped dome, and minarets too. You will notice the entire Mahal was built in milk-white marble that is beautifully encrusted with floral patterns. You will please your eyes with some precious stones like diamonds, pearls, lapis lazuli, and jade. But you must preferably visit the Mahal when the sun is rising or setting. Only then will you notice how brilliantly its lighting reflects this beautiful building. You can even try witnessing the reflection that falls on the Yamuna River. It's going to be a picture-perfect selfie!
Varanasi – The Holy City
Varanasi is one of the oldest cities in India that have its origin way back in the 8th century BC. It is the most important pilgrimage for all Hindus, and the holy Ganges is the religious symbol of this city. However, there are many more reasons apart from the Ganges that make Varanasi a sacred city.
It is the Old Quarter that is beside the Ganges that adds to the beauty of this city. Moreover, the Kashi Vishwanath Temple of Lord Shiva built-in 1780 is a major attraction of Varanasi. You will even find the New Vishwanath Temple to have seven temples separately, which is of great interest.
Varanasi is one of India's best tourist places where you will find numerous Hindus having a bath in the mighty Ganges. It is of great religious importance for them. Another interesting thing about the river is its banks or 'ghats'. They have several staircases at the banks that lead to different parts of the city.
You will find more than 90 'ghats' present all along the bank of the Ganges River. The largest and the world-famous one is the Dasashvamedh Ghat and also the Assi Ghat. It would be nice if you also visited the Banaras Hindu University that was built in 1917. It has many books that might draw your attention. Also, paying a visit to the Bharat Kala Bhawan Museum will amaze you with the local history that goes way back, beautiful paintings, palm-leaf manuscripts, sculptures, and more. You must also bring with you some original Benarasi silks that the artisans make. This is a city that is also famous for its traditional music. Every lane that bends in this city has a new story to tell you. So, when visiting India, Varanasi should be on your travel list.
Jaisalmer – The Golden City
You call Jaisalmer, the Golden city too. It is because the small town has buildings that are mostly made with yellow limestone and sandstone. You can quickly call this place an oasis of architecture. Wondering why? Well, it is filled with spectacular olden architecture made out of the Thar Desert's dunes. You will find the city filled up with majestic gateways, old mansions, and the most famous attraction, The Jaisalmer Fort. You can also call this fort the Golden Fort. It was built in the 12th century and is worth being called Golden.
Apart from the famous temples, fine old homes, and palaces, there is a fortress with ninety-nine flagships. It has enormous gateways that lead you to a central courtyard. In this courtyard, you are sure to be awestruck to see the Maharaja Palace that is seven-storied. It was made in the early part of the 1500s and had a history until the 19th century. Once you get into this palace, you are going to see some beautiful tiles decorated that were imported in from China and mostly Italy.
You will also see some lovely intricate carving on the stone doors that you will love. Here, there are several Jain temples are made out of sandstone pictures and elegant marble. You will also see the temples decorated with bright colored ceilings, and palm-leaf manuscripts present there. Make sure you don't forget to pay a visit to the more than 1000-year library famous for its preservation. Also, the Gyan Bhandar has antiquities and manuscripts of the 16th century.
New Delhi – The Capital City
New Delhi is now the capital of India and boasts of numerous forts present there. But the Red Fort is one of the dream places to visit in India. You will find the history of this fort going back in the 1600s built by Shah Jahan. It was built by the emperor to mark Red Fort as a Mughal Power seat and reigned till 1857. You will find the fort to be crescent-shaped and named such because of the use of red sandstone. It is a massive, majestic, and beautiful make that spreads across over quite a vast area. You will notice the entire space to be having an area of more than two kilometers. But the whole space has a surrounding of a large trench.
Highlight – Red Fort
When you visit the Red Fort, you will see two gates that will impress anyone. One is the Lahore Gate that is the entrance that allows you to enter into the fort. And the second is the massive Delhi Gate, which is decorated elaborately. The emperor initially built it for several ceremonies and processions that took place within the palace.
You must visit Chatta Chowk if you are keen on some fascinating buy. It is a market or locally called 'bazaar' that you will find selling almost everything. You can get lovely jewelry, silk clothes, foods, and uniquely designed souvenirs to bring back home.
A tour around the fort by yourself can be a good idea, but if you are interested in knowing some fascinating histories, take a tour guide. He will give you a lovely tour and tell you unknowing insights about Shah Jahan and other emperors that no book ever said. A quick brief about the lovely Diwan-i-Am (Hall of Public Audiences), which has white marble all over, is a great place to visit.
Another fun thing you must do is, stay in a little longer till the sunsets and see the light and show held there. It will give you details about all the event histories of the fort.
Mumbai – The Gateway of India
One of the most important and impressive must-sees is the 26 meters tall Gateway of India. You will find the history of this gate going back when King George V was supposed to visit India and his wife, Queen Mary. It was built in the year 1911 but opened for everyone else in 1924. For quite some time, this was touted as the tallest structure Mumbai had.
You will find this gateway to be built entirely with yellow basalt. It has an Indo-Saracenic design. You will find this place to be trendy among all the tourists visiting this place. But remember to visit the Taj Mahal Palace and Tower when you are at the Gateway of India. It is a very luxurious hotel that was inaugurated in 1903.
Goa Beaches
Goa is one of the best places to visit in India with friends. You, along with your friends, will enjoy this place a lot. The city is beautiful and is full of life. It is a must-visit destination if you are visiting India. Who doesn't like a beach vacay? Goa has a lovely coastline in the west and overlooks the Arabian Sea. Overseas tourists have recently found out about this place and are visiting this place regularly.
You will find the coastline of Goa to go as far as 60 miles. It has beautiful beaches that give this place an unusual, appealing attraction. If you are someone who loves a peaceful time at the beach, then your choice should be Agonda Beach. However, if you like crowds and busy places, Calangute Beach is where you should be.
If you love yoga, getaways, spas, and posh resorts, your beach is Ashwem, Mandrem, and Morjim. It is an expensive beach that you will enjoy visiting. Even the Palolem beach is a lovely beach to be for the numerous options it offers.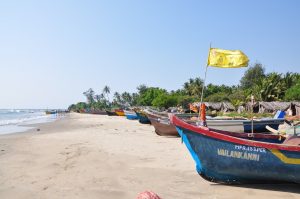 Highlight: Bhagwan Mahavir Wildlife Sanctuary
If you love animals, then the Bhagwan Mahavir Wildlife Sanctuary is one of the best tourist places in India you must visit. It has a lovely attraction for all animal lovers and has a thick, dense forest. Moreover, it is home to fauna that includes elephants, tigers, deer, black panthers, monkeys, and leopards. You will also find there more than 200 bird species. If you love snakes, the black panther will be another thing you will like witnessing.
It would be best to visit the Divar Island that can be reached from Old Goa by ferry. Some other places worth visiting are the traditional Goan village, Church of Our Lady of Compassion, and Piedade. The Church of Our Lady has some creative Baroque plaster decoration, and stucco work done on the altars and around the church. You will also enjoy the beautiful greenery that surrounds the church area.
Mysore Palace
The list of best tourist places in India is incomplete without having Mysore Palace mentioned. It is present at a beautiful city-Mysore that has a superb confluence of Indian palaces, old colonial architect, and wonderfully maintained gardens. However, the exquisite silk market, sandalwood markets will amaze you too. It is present right inside the Mysore Palace itself.
You will come to know that the Mysore Palace was rebuilt after being destroyed by a massive fire. The palace has lovely symmetrical square domes and towers, a gigantic Marriage Pavilion filled with fantastic artwork, glazing floor tiles, jewelry, and some stained glass. On exceptional events, the splendid Golden Throne is displayed in the Mysore Palace.
But for the perfect treat, you want to give yourself visit the palace on any special occasion, holidays, or Sundays. Only then will you witness the lovely lightings. There are more than 80,000 lights that illuminate the palace that will leave you awestruck.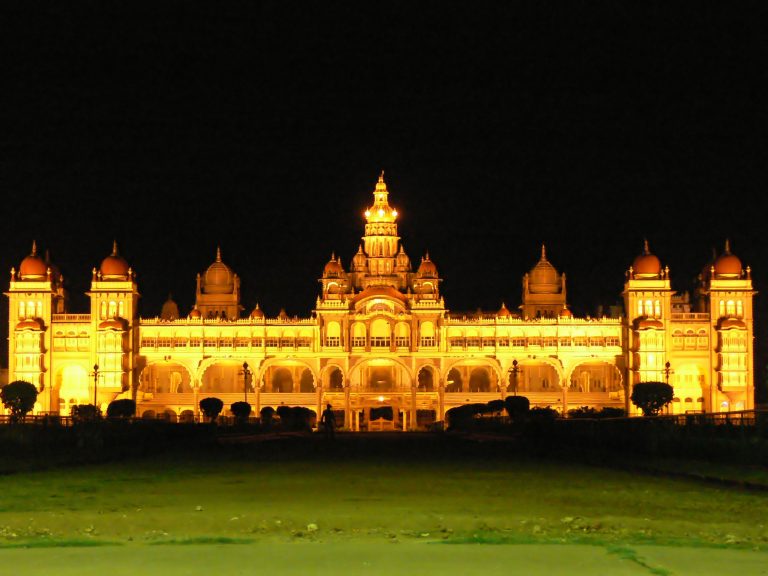 Final Thoughts
Now, doesn't your travel bucket list have the best tourist places in India waiting for you to explore? There are many more tourist places in India, but you can start with these. India has such a diversity that you cannot confine it to one trip. But once you visit this beautiful country, you are surely going to get addicted and want to go back there every time.