Fiji offers a wealth of natural and cultural attractions. However, choosing the ideal time for your visit necessitates careful consideration of a number of factors. In this blog post, we will delve into these aspects, enabling you to make an informed decision about the best time to visit Fiji.
Best Time to Visit Fiji: Weather and Climate       
Fiji's tropical climate, which features moderate temperatures and heavy humidity throughout the year, is what gives the country its irresistible allure. The best time to visit Fiji, however, for organizing an outstanding trip must take into account the nuances of its weather patterns. 
1. Wet Season (November to April)
In Fiji, the wet season offers a singular adventure that is frequently overlooked by tourists. This tropical paradise experiences downpours and the occasional cyclone from November to the month of April, which deters travelers. However, there are lots of interesting things to do at this time. The rainy season offers an entirely different atmosphere from Fiji's dry season, with energizing rain showers and lush green sceneries covering the islands. The wet season offers the ideal time for exploration for those looking for a more serene environment.
Passionate scuba divers can't resist the draw of exploring the Fijian Sea's depths as the rainy season approaches. It's the ideal time to marvel at the magnificent coral reefs and a variety of marine life that call this ocean home because the seas are crystal clear, and visibility is better. The wet season in Fiji offers a variety of activities to suit any traveler, whether your heart yearns for a serene retreat or an exhilarating adventure.
2. Dry Season (May to October)
For those who want to fully experience the beauty of the island's natural landscape, traveling to Fiji during Fiji's dry season is strongly advised. The months of May through October are great for seeing Fiji's gorgeous beaches and lush jungles because of the comfortable temperatures and low humidity. Travelers can indulge in a variety of fascinating activities, including snorkeling, swimming, trekking, and exploring because there are fewer rainy days and fewer chances of cyclones. Additionally, exciting cultural celebrations like the Bula Festival and the Kava Ceremony frequently coincide with the dry season. 
Best Time to Visit Fiji: Crowds
The crowd must be considered in order to plan a successful vacation to Fiji. The peak travel seasons are July and August when a large number of visitors arrive to enjoy the stunning scenery and rich traditions. The weather is often clear at this time of year. However, because of the high volume of tourists, one could experience a busy and chaotic atmosphere rather than a calm one.
For tourists seeking alternatives to the peak seasons, May to June and September to October offer a more tranquil setting. Visitors can enjoy a calmer and more tranquil trip with fewer tourists around, despite the sporadic lack of dry and sunny weather.
It's crucial to take your desired experience into account when choosing the best time to visit Fiji. The busiest travel season may be your best bet if you enjoy a traditional trip packed with sightseeing and activities. However, the shoulder seasons are worth taking into account if you want a more sedate and private atmosphere. Whatever your inclination, Fiji is certain to provide a special experience.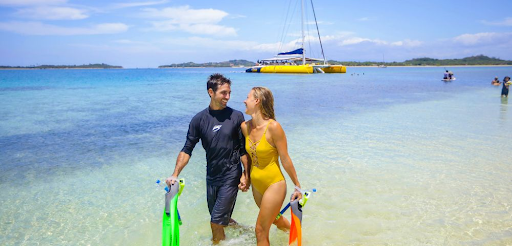 Best Time to Visit Fiji: Seasonal Events and Festivals
The many festivals and events that are held all year long showcase Fiji's rich and varied culture. From the Bula Festival in July to Fiji Day in October and Holi in March, visitors to Fiji will have the chance to thoroughly immerse themselves in the local cultures and customs that make this country so exceptional.
The Bula Festival celebrates the unique history and culture of the country each year. The many cultural traditions of Fiji are brought together via traditional plays, music, and other events. On Fiji Day, people gather from all across the nation to commemorate the nation's independence and recognize its illustrious past. In Fiji, the significant Hindu holiday of Holi is observed with zeal and intensity.
You won't be let down if you travel to Fiji at any time. You will be able to fully understand Fiji's spirit and relish the special experiences these festivities provide if you schedule your vacation around the various festivals and events that take place there.
The Bottom Line
When considering the best time to visit Fiji, several factors should be carefully evaluated. These include weather conditions, crowd levels, and seasonal events. Whether you are looking for pristine beaches, incredible diving experiences, or cultural immersion opportunities, Fiji offers something for everyone throughout the year. Ultimately, the decision depends on your personal preferences and priorities. Regardless of when you choose to visit, Fiji's captivating allure will undoubtedly leave an everlasting impression on your soul, beckoning you to return again and again to this tropical paradise.